Floodplain Management QuickLinks
Contact Floodplain Management
Hill County Floodplain Administrator:
Tom Hemrick CFM
Address:
218 N Waco Drive
Hillsboro, TX 76645
Telephone:
(254) 582-2023
Email Address:

[email protected]
What is a Floodplain?
A floodplain is a geographic area of land adjacent to a waterway that is subject to flooding.  Floodplains can be associated with rivers, lakes, streams, channels, and even small creeks that are normally dry throughout most of the year.  Floodplains are commonly found along low elevation points or low water crossings.  The 100-year floodplain is an area subject to flooding as a result of the occurrence of a 100-year storm event, or a storm that have a 1% chance of occurring in any given year.  For more information on floodplains or floodplain management, you can also review the wealth of information available on the FEMA Floodplain Management website.
Floodplain Regulations in Hill County
Floodplain regulations are enforced to protect public safety and health.  In addition, they encourage sound engineering practices and efficient floodplain management techniques.  All construction in Hill County must adhere to federal floodplain regulations.  These regulations are established by the federal government and are implemented by the Federal Emergency Management Agency.  The County Floodplain Office is responsible for examining construction for compliance with local and federal floodplain regulations.
Evaluating and Permitting Floodplains
The County Floodplain Office is the designated floodplain administrator for Hill County.  Official floodplain maps for the county are available for viewing in our office at 200 East Franklin Street, Hillsboro, TX 76645.  Floodplain permitting within the incorporated cities in Hill County are handled by those cities directly.
Currently, residents can visit the County Floodplain Office for consultation to determine whether any specific location is within the floodplain.  Alternatively, FEMA's Map Service Center provides online access to the same floodplain maps that we use.  The FEMA Map Service Center can provide paper maps, scanned images on CD-ROM, and direct downloads of maps.  The site also allows you create a FIRMette at no cost.  A FIRMette is a section of the flood hazard map at 100% scale that can be printed on standard paper sizes (8.5×11, 8.5×14, and 11×17).
Floodplain Development Permit
If your property is located in a floodplain, you will need to elevate structures to higher than the base flood elevation (BFE).  A floodplain permit will be required.  To receive a permit, residents must obtain a permit application.  Included in the Floodplain Permit Application packet are instructions and the forms that must be completed in order for a floodplain permit to be issued.  Once the packet is completed, it should be returned, by email, to the address listed at the top of this page.
Download the Floodplain Permit Application packet
Floodplain Permitting Process
The following process is utilized when permitting a floodplain in the rural, unincorporated areas of Hill County:
Requestor prints and submits the Floodplain Development Permit Application to the Hill County Floodplain Office by email.
Hill County Floodplain Office reviews the application.
(a) Floodplain Administrator locates the development site on the community's floodplain map.
(b) Floodplain Administrator ensures the project is considered a development by existing standards.
(c) Floodplain Administrator ensures that the owner or developer submitted a complete application.
(d) Floodplain Administrator determines whether applicant is constructing an additional building or substantially improving an existing building.
(e) Floodplain Administrator determines base flood elevation (BFE)
Hill County Floodplain Office prepares application package for inquiry
(a) this includes the permit application, floodplain map, letter from engineer (FPA determines BFE & slab), and additional items as needed.
(b) a "no-rise" certificate may be included if applicable.
Requestor obtains a "Certificate of Elevation".
Requestor submits Certificate of Elevation to the Hill County Floodplain Office.
Hill County Floodplain Office reviews the floodplain package.
Hill County Floodplain Office approves/disapproves the permit.
Completion of the process qualifies the home for the National Flood Insurance Program (NFIP).  Development within the floodway is prohibited except with extensive engineering and floodproofing.  On April 12, 2011, the Hill County Commissioner's Court adopted the Hill County Flood Damage Prevention Court Order.  This order is effective as of June 2, 2011.  The Hill County Flood Damage Prevention Court Order contains the full text of floodplain regulations in effect within Hill County.
Floodplain Fill can Make Things Worse!
Floodplains are supposed to store floodwaters.  If storage space is filled with dirt and other material, future flooding may worsen!  You are required to perform an engineering analysis to show how the floodplain fill will alter flooding.  Floodplain fill can alter other functions beside backwater, including wildlife habitats and wetlands.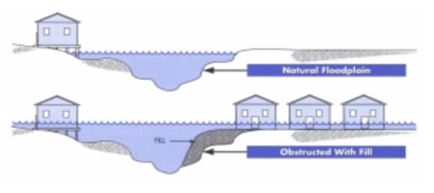 Make sure your floodplain fill project won't harm your neighbors!  Floodway fill is allowed only if an engineering study and the Floodplain Administrator can determine if "no rise" in the flood level will occur.